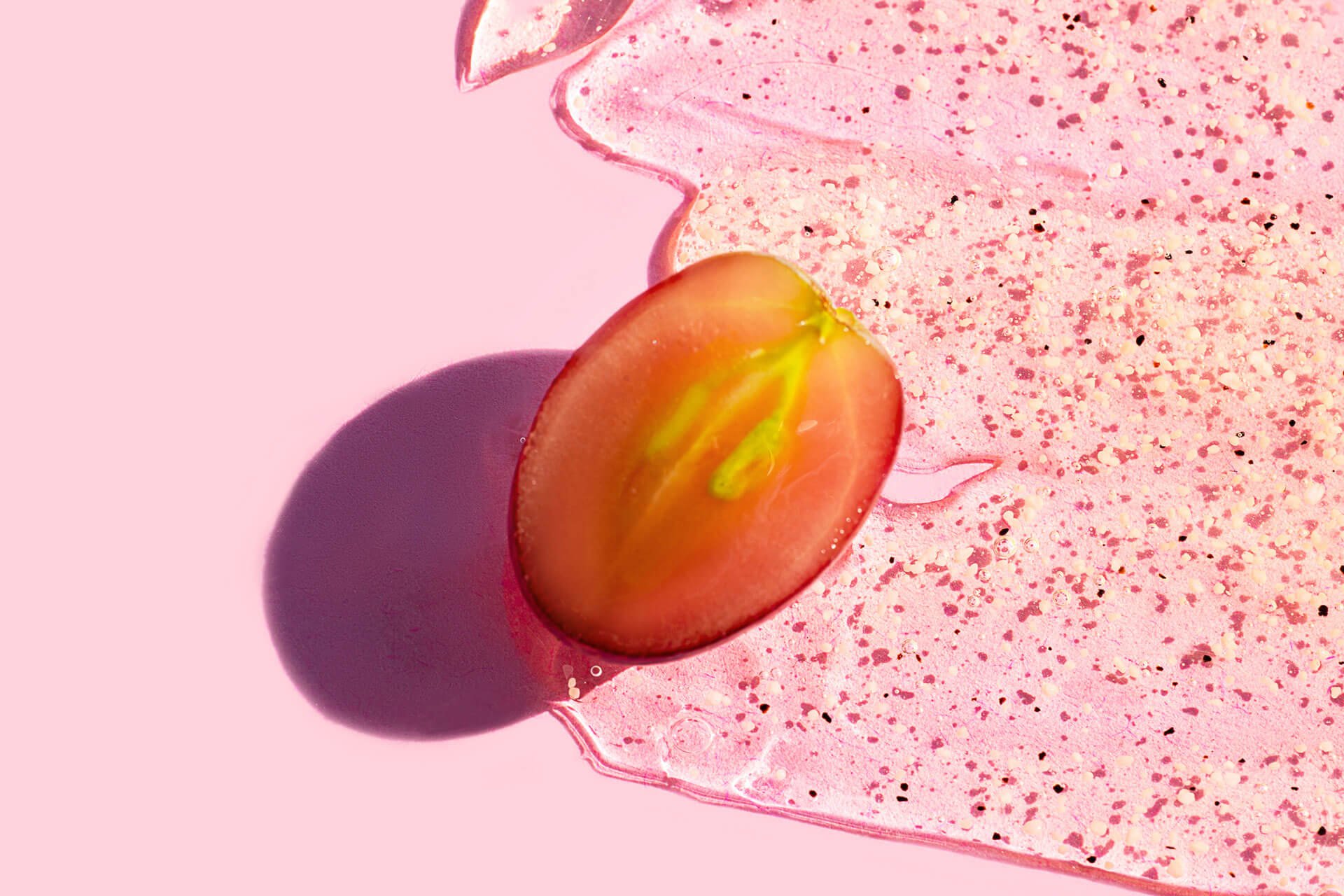 Nature is our super­power.
Superior standards, natural ingredients, extraordinary experiences.
Genuine treasures: secondary plant substances
True heroes from nature
We harness the superpower of secondary plant compounds. They help plants to adapt to their environment. They ward off predators, protect against sun, rain or fungal attack, act as growth regulators and also serve as flavor, fragrance or colorants.
We humans can also participate in this superpower by balancing our diet. Fruits, vegetables, nuts, mushrooms and herbs have many positive effects and can be both healing and prophylactic against various diseases. For example, it is commonly known that resveratrol is a plant compound found in raspberries, cocoa beans and especially red grapes. It not only protects the plant, but also has an antioxidant effect on human cells.
The power of plants is not prioritized in the pharmaceutical industry because companies believe that no significant profits can be made from plant ingredients. As a result, they are often unwilling to fund studies on secondary plant compounds.
Therefore, one of our primary goals is: further research on phytochemicals.
The latest nutritional and health science findings on the health-promoting potential of phytochemicals are regularly incorporated into hajoona's product development. Existing recipes can thus be optimized, new ones created and implemented together with our suppliers.
Scientific advisory board
hajoona is committed to the continuous development and optimization of products, processes and systems. Therefore, we have decided to establish a scientific advisory board. We are proud and honored that renowned personalities from research and teaching as well as from the economy have agreed to actively support hajoona in an advisory capacity.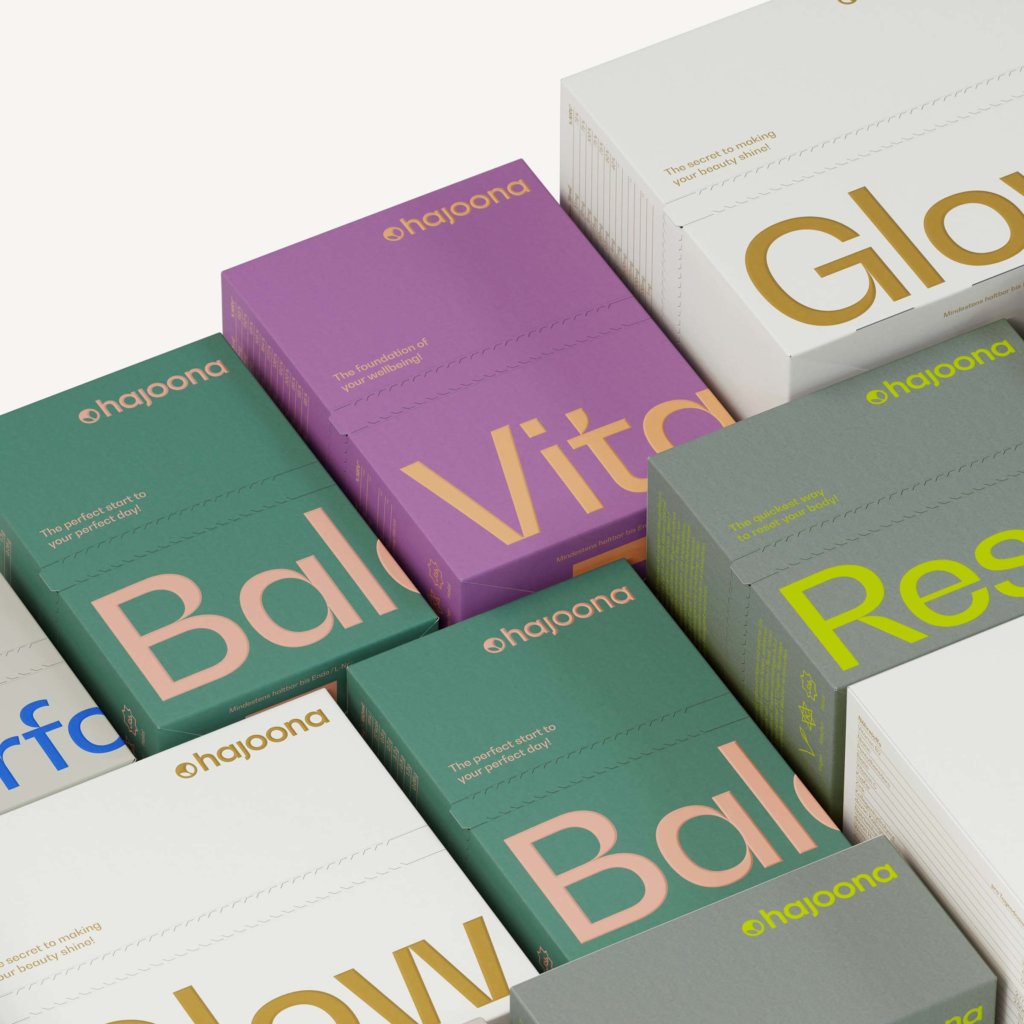 Proven excellence.
Best quality, best products.
Best quality is our top priority. Therefore, we voluntarily have the quality and composition of our products regularly controlled by independent institutes.
We subject ourselves and our products to the highest standards, which is why we collaborate with a selection of highly renowned partners who frequently assess our work and guarantee that we live up to our high standards. Consisting of researchers from the Universities of Heidelberg and Milan, our scientific advisory board is of the utmost importance and advises us on the development and composition of our formulas. Once developed, each of our products undergoes multiple stringent quality controls before moving on to high-precision filling and packaging in line with the most stringent hygiene regulations, which is confirmed by the independent Institut Prof. Dr. Georg Kurz with the awarding of the popular Kurz seal. And our membership in the leading industry association for dietary supplements, NEM e.V., also obliges us to ensure consistent, high product quality. The Cologne List has evaluated all of our products and found them to be safe, which is especially important for athletes.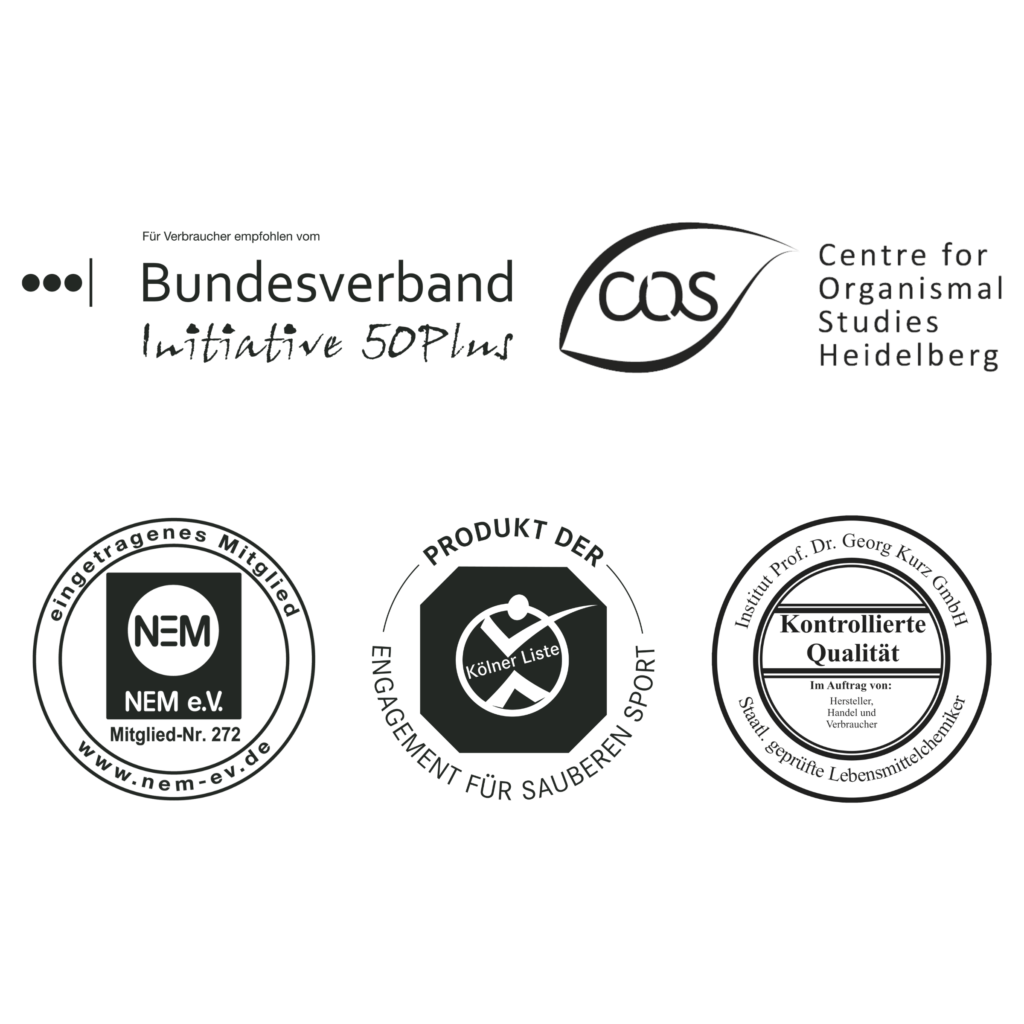 Your FAQs at a glance.
What is the hajoona product concept and what exactly are vital substances? We answer these and many other questions in our FAQ section.
Information about our products
In today's world, it is becoming increasingly difficult to eat well. People are mobile and constantly on the move, have high demands at work and want to optimize themselves more and more.

At the same time, there are four major challenges that put a strain on health:
Lack of exercise / overweight
Nutrient content of our food
Scientific evidence shows where our challenges lie:
40% of men and 45% of women do not exercise enough.
50 % of all Germans are overweight (BMI > 25) – 25 % even obese (BMI > 30). Consequences: Civilization diseases (heart attack, cancer, asthma, rheumatism, joint and vertebral complaints).
80 % of all Germans are considered to be over-acidified. Consequences: reduced performance, fatigue, headaches, muscle and joint pain, susceptibility to infections.
60 % of all Germans suffer from stress. 20 % feel permanently stressed. Consequences: Absorption of nutrients by the intestine is reduced, susceptibility to infections increased.
Nutrient content decreased by 50 % within 60 years due to intensive agriculture and monocultures. With conventional nutrition it becomes increasingly difficult to cover one's nutrient needs.
You are lucke to have chosen hajoona products. They will help you to replenish your vital substance reserves and keep body and mind in balance. For more health and more joy of life! Where possible, hajoona products are vegan, made from organic ingredients and produced without additives or sweeteners. They are gluten and lactose free, without genetic engineering and pesticides and are closely examined for harmful substances, so you get the best product quality.
The intestine is one of the most important organs of your body. It is here that all nutrients are absorbed, your hormones are produced and regulated, and your immune system is built up and kept in good shape. Unfortunately, the large and small intestines are particularly susceptible to the adverse effects of modern life:

Chemical food additives, medications, stress and other environmental stresses can severely disrupt their functioning, throwing the entire body out of balance. A regular and efficient intestinal cure is therefore essential for your lasting well-being.

hajoona Reset even goes one step further with its two-phase principle:


Reset 1 cleanses your intestine with psyllium husks and enriches it with the fiber Nutriose. This strengthens it and creates healthy intestinal flora.
Other anti-inflammatory ingredients restore your body's natural balance and regenerate damaged cells.


Reset 2 then further builds your intestinal flora with the help of 32 high-dose, active bacterial strains, thus supporting your body's immune defense and healthy fat metabolism. This lays the foundation for a general increase in your mental well-being.


MICROBIOM CLEANSE & IMMUNE HEALTH Gentle intestinal cleansing and elimination of cellular toxins through psyllium husks, MSM, L-glutamine and oak bark. Enriched with valuable dietary fiber (resistant corn dextrin-Nutriose®) for healthy intestinal flora and strengthening of the gut.


MICROBIOM SUPPORT Anti-inflammatory through fennel, ginger, reishi // Targeted build-up of microflora through vitamins and 32 active, high-dose bacterial strains – help your body strengthen the immune defense and your mental well-being. //Acacia fiber & Jerusalem artichoke as fuel and navigator for your intestinal bacteria.
A healthy, vital body also requires a clear, focused mind. Only the combination allows you to reach your full potential every day and achieve all the goals you have set for yourself. With hajoona Balance, you balance your body first thing in the morning and ensure mental clarity. The unique combination of green coffee beans and three traditional Chinese medicinal mushrooms works against inflammation in the body, reducing your stress levels. Calcium, amino acids and protein from rice and kidney beans keep all cellular processes functioning properly, making it easier for your body to work and can help you reach your weight loss goals.

WEIGHT LOSS & DETOX Balance supports your liver in (fat) metabolism with chlorogenic acid and choline. Calcium, proteins from rice and kidney beans and a comprehensive amino acid profile supply your muscles and ensure that they are maintained and all cellular processes function at their best. A strong liver relieves the kidneys for effective de-acidification of the body, so acids that collect in connective and fatty tissues can be removed..

FOKUS & INNER BALANCE Green unroasted coffee, choline and the adaptogenic vital mushrooms Ling Zhi, Maitake and Hericium reduce your stress levels and increase clarity and focus. Essential amino acids help keep your cell metabolism in balance. Hericium has a regenerating effect on the nervous system and provides focus and clarity and Reishi, the "king of medicinal mushrooms", strengthens the immune system. Three medicinal mushrooms "modulate" the body in Chinese medicine – too much is balanced as well as too little. Our vital mushroom extracts are carefully produced and are available in a strong ratio of 15:1 in your hajoona Balance.
Your best-in-one daily
All the essential vitamins, minerals and trace elements your body needs in just 20 ml a day

In our hectic world, it's not always easy to pay attention to a balanced diet – and even if it's especially important to you, it's not always easy to find foods with the necessary amount of important ingredients. hajoona Vitality solves this problem with a single sip. Full of vitamins, minerals, trace elements and antioxidants, it gives your body everything it needs, supporting the healthy functioning of numerous essential systems such as immune defense, metabolism or heart and circulation. Taken daily, it effectively protects cells from oxidative stress, promotes the maintenance of hair, nails and bones, and can provide a particularly healthy and restful sleep.

VITALSCHUTZ FÜR DEINEN KÖRPER Protection against external influences through OPC from chokeberry and grape seed, the No 1 radical scavengers. Interruption of inflammatory processes in the body through maximum protection against free radicals.

POWER & VITALITY BOOSTER All the essential minerals and trace elements your body needs – for oxygen transport in the cells, energy metabolism, bone formation and a balanced blood sugar level.

Comprehensive vitality supply through all important vitamins, minerals and trace elements for:
A strong cardiovascular system
A strong immune system and defenses
If you want to achieve something special, you have to put in a special performance – this is just as true in sports as it is in your professional life. Especially for people with a high-performance lifestyle, a high-quality and perfectly balanced diet is essential. Because only those who give their body the necessary support can expect top performance from it. This is exactly why hajoona Performance was developed. Its main ingredient is the vital mushroom Cordyceps sinesis, which supports optimal oxygen transport at the cellular level and thus helps the body to provide performance particularly quickly, efficiently and over a long period of time. In combination with high-quality inulin from chicory, it perfectly supplies your microbiome and can thus reduce stress and support your immune system – which in turn has a positive influence on your regeneration.


PERFORMANCE ENHANCEMENT WITH AND WITHOUT SPORTS
Cordyceps gives you power for and after sports and provides optimized oxygen transport on cellular level, endurance and physical performance. Improved oxygen uptake even without sports.



STRESS LEVEL BALANCE EVEN AFTER SPORTS
Inulin from chicory (the original form of chicory) as food for the bacteria in the large intestine and the permanent supply of the microbiome works together with cordyceps for a strong immune system and the absorption of stress in the organism – perfect for balancing stress after sports. Vitamin B 12, folic acid and panthotenic acid support the strong duo.



VITALIZING, REJUVENATING, PERFORMANCE ENHANCING
Cordyceps promotes muscle regeneration and counteracts tired muscles.
It is packed with antioxidants that strengthen cells and protect them from free radicals. As a result, antioxidants can work against inflammation, such as after physical exertion, and naturally lower overall stress levels. Prickly pear as a fat burner helps you reach your athletic goals faster and is a weight loss booster even without sports. No matter what challenge you want to face, Performance gives you the power to do it.
Glow up your life

The new freshness cure for your beauty. Maximum dose of collagen and hyaluron. Anti-aging superfood spermidine. Cell renewal at the highest level. Extra kick from 3 skin vitamins, copper & zinc.
Smooth skin and fewer wrinkles: Hyaluron plumps up the skin and provides it with moisture. 3 essential skin vitamins biotin, niacin and vitamin B2 care for and nourish skin, nails and hair. Cell regeneration and rejuvenation: spermidine – superfood for cell recycling and rejuvenation. Autophagy without fasting. Healthy & beautiful hair: copper contributes to the formation of the pigment melanin, which first gives color to the skin and hair. It promotes the cross-linking of the collagen and elastin layer of the skin and activates enzymes that remove old connective tissue. Firm connective tissue and elasticity: Collagen is our most important structural protein in the body. It gives skin, hair and connective tissue firmness and elasticity. Zinc is involved in the formation of collagen and is therefore important for firm, elastic skin. In addition, zinc has been proven to support and accelerate the regeneration of the skin.
Boost the effect of our products with the holistic health program Body Restart and become part of a unique community.
hajoona makes it possible for you to lead a healthy and fulfilled life even in our hectic modern world. In order to fully exploit the potential of our products, we have created a particularly simple and at the same time highly efficient health program, with which you can experience a completely new body feeling in record time: Body Restart. The basic idea behind Body Restart is to use and supplement the various components of the hajoona Complete Box over a period of four weeks in such a way that they develop their maximum effect. In addition to specific instructions on how to use the products, we also provide you with suitable recipes, fitness videos and supplementary explanations to guide and support you on your way to a healthier body. In addition to our experts, you'll also be accompanied by the more than 2,000 members of our Body Restart Community who either participate in the program with you or have already completed it – some even more than once. Together you can push each other, share tips and experiences, and celebrate successes.
Seals
We leave nothing to chance, so you get impeccable product quality. All our products go through several quality stages before we deliver them to you. The raw material certificates guarantee flawless goods and already at the receipt of the raw materials they are checked for pesticides, bacteria and heavy metals. At the exit from the producer all products are examined again. In addition, we carry out microbiological tests for each new batch and check whether all the ingredients that are specified are also contained in the exact quantities. Finally, we have ourselves externally tested by the independent laboratory Prof. Dr. Kurz in order to be allowed to carry the coveted Kurz seal.
Our quality commitment
hajoona is committed to the continuous development and optimization of products, processes and systems and has therefore decided to establish a scientific advisory board. We are proud and honored that in a very short time well-known personalities from research and education as well as from the economy have agreed to actively support hajoona in an advisory capacity. For example, Prof. Dr. Rausch and Prof. Zhigang An, both leading experts in the field of secondary plant compounds from the Centre of Organismal Studies at the University of Heidelberg (COS), support us in our product development. hajoona is also engaged in the NEM e.V., the leading industry association for dietary supplements in Germany, to ensure the consistent and high quality of our products.
Stay in the know.
Subscribe to our newsletter to get all the information about products and promotions at first hand.